Paper Pimp - Los Reyes de la Milanga (
Cabeza!
)
Mostro (Black Mandingo Lowmix) - Dante Spinetta (
Cabeza!
)
Bass Head (Remix) - Los Reyes de la Milanga (
Cabeza!
)
Campesino Urbano (Dub) - Kinky Electric Noise (
soundcloud
)
Only U (Remix) - Shaggy & Barrington Levy (Sting Intl)
Nutten Na Gwan Fi Dem - Mr Lexx (Dwajay)
Get Gal Fi Free - Vybz Kartel (Dwajay)
Exit 21 Version - Dwajay (Dwajay)
Bacardi & Cola (El Hijo De La Cumbia Rmx) - Irie Maffia (
soundcloud
)
La Colorada (Super Gauchin Rmx) - Pibes Chorros (
soundcloud
)
Echata Palla - Quantic Presents Flowering Inferno (Tru Thoughts)
Black Vomit - Dokkebi Q (3QREQ)
Skank Into The Sky - Dokkebi Q (3QREQ)
No No No - LA Vampires Meets Zola Jesus (Not Not Fun)
Porque - Jahmiga (Jahmiga)
Up In Smoke - Coco Solid (Coco Solid)
Fake Off (Eero Johannes Rmx) - Jean Jaques Perrey & Cosmic Pocket (InVitro Records)
Touch Of Evil (Cuckoo Mix) - Jaga Jazzist (Ninja Tune)
Du Va La Vie - Toog (Karaoke Kalk)
The Slum - Pariah (R&S)
Karibu Ya Bintou - Baloji ft Konono No 1 (Kraked)
Ghost Rider - Gavin Friday & Dave Ball (Blast First Petite)
No Ta Llevando El Diablo - Rita Indiana (Dutty Artz)
Ill Equipped And Assimilated - Drab Doo Riffs (Drab Music)
Pari Ruu - Lloyd Miller & The Heliocentrics (Strut)
Chinese Song - Dan Bau Vietnam (Trikont)
Rider In The Sky - Dan Bau Vietnam (Trikont)
Before I Move Off - Mount Kimbie (Hot Flush)
Carbonated - Mount Kimbie (Hot Flush)
Charly Garcia vs Loefah - Villa Diamante (
soundcloud
)
Ya Basta (Todos Som Inmigrantes) - El Remolon ft Lido Pimienta (ZZK)
Aqui Conmigo - Lido Pimento (
Lido Myspace
)
Gook Dub - Dokkebi Q (3QREQ)
Glory Gongs - Forest Swords (Olde English Spelling Bee)
Postcards From The Edge - Ghost (Musicforheads)
Ode To AMDM - Ghost (Musicforheads)
Puente - Chancha Via Circuito (ZZK)
Cinco (Chancha Via Circuito Rmx) - The Ruby Suns (Sub Pop)
Portobello - Sandro Delepedro (
Cabeza!
)
Muevelo - Sonido Desconocido II
Diamonds, Fur Coat, Champagne - Thomas Brinkmann (Blast First Petite)
Well the Gainsbourg flick was pretty good, excellent in some parts and a little lagging in others, still... whether you've got a Serge album or two, or you know absolutely nothing about him - it's worth a look. This week please don't overlook the post below with news about the screening of 'Timeless' and further treatology from the Film Fest, and while you're about doing that have a little listen to the pleasantly uncompromising sounds of
Dokkebi Q
on
3QREQ
. I've actually been a bit slack with this album ('Hardcore Cherry Bob Bon') as I was aware of its existence, but never got round to giving it a listen. Rectified that this week and have to say I was pulling out the virtual wallet and buying them files pretty quick, I rate it! Basically it's the other group of Kiki Hitomi (from Kevin 'The Bug' Martin's King Midas Sound and also Black Chow which is just her and Kevvy Kev) and a geezer called Goh 'Gorgonn' Nakada, who certainly isnt afraid of making a racket and running them needles into the red. The album is fucked up and good and refreshingly dirty for a dubwise affair, it's my belief we need more of this kind of thing, enormous amounts in fact, if we have that - then we may start to balance out all the bland namby pamby soulyjazzydubby crap that has infiltrated music that started off with attitude and a spirit of rebellion and adventure.It's a war and I suggest you enlist by pursuing this record further, them links stinks and they will lead you to good places...
Buy files from
Juno
or CD from
Piccadilly
etc etc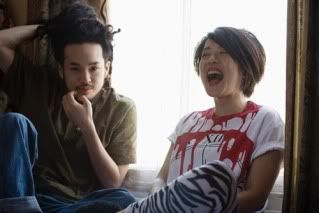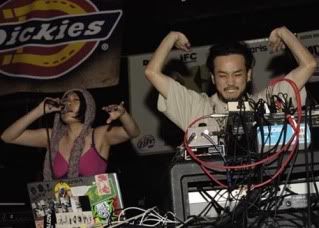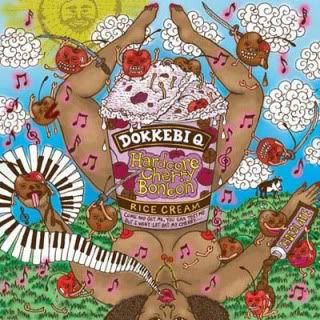 BLACK VOMIT - DOKKEBI Q