Arroz Con Coco - Lucho Bermudez y su Orqestra Sabanera (Soundway)
La Gozadera - Alex Acosta y su Orquestra (Soundway)
No Rest For The Wicked - A Hawk & A Hacksaw (Langspielplatte)
No Watch Man - Louie Culture (John John)
Peer Pressure - Tarrus Riley (John John)
Let Me Love You - Pressure (John John)
Got It Going - Sizzla (John John)
Worlds In Trouble - Alborosie (John John)
Reggae Dance - Scara Moosh (Junkyard)
Know & Understand (ft Gregory Isaacs) - Alpha & Omega (Steppas)
Signs - Black Chow (Jahtari)
This That And The Other - African Head Charge (On-U Sound)
Dobbyn Joins The Headchcarge - African Head Charge (On-U Sound)
Higher Than The Sun (A Dub Symphony In Two Parts 2011) - Primal Scream (Sony)
Sandstorm - The Oscillation (All Time Low)
Keebler Elf Forest - Madlib (Stones Throw)
Relaps - Discodeine (Dirty)
Shopping Cart - Parallel Dance Ensemble (Permanent Vacation)
Other Islands (Eero Johannes Rmx) - Ben Butler & Mousetrap (Loaf)
Falkenberg - Discodeine (Dirty)
Figures In A Soundscape - Discodeine (Dirty)
Woodcarver - A Tribe Called Red (
soundcloud
)
Berlin Barbeque - Scott Detail (Bassweight Recordings)
Loosie - Siriusmo (Monkey Town)
Fall - The Oscillation (All Time Low)
Medicine Man - The DHDFD's (Round Trip Mars)
Kremlin Rules - Kreidler (Bureau B)
Cold Hands - Scratch 22 (Round Trip Mars)
Hollow Bone - Scratch 22 (Round Trip Mars)
Lajtha Lassu - A Hawk & A Hacksaw (Langspielplatte)
Homo-Compatible - Discodeine (Dirty)
Yiri Yiri Boum - Gnonnas Pedro (Strut)
Santana En Salsa - Crecencio Camacho y El Super Combo Curro (Soundway)
Sonidero Compay ft DJ Blas - Toy Selectah (Mad Decent)
Pitchito - Frente Cumbiero (Strut)
Tifit Hayed - Wganda Kenya (Nascente)
Fiesta De Negritos - Lucho Bermudez y su Orqestra Sabanera (Soundway)
Mr DJ Datc - Earl Sixteen (Dread At The Controls)
Mr DJ Datc Dub - Mikey Dread (Dread At The Controls)
Lovers Delight - Earl Sixteen (Dread At The Controls)
Guiding Star - Big Magnum (Tubby's)
King Tubby's Hi Fi - Scientist (Kingdom)
Swapo Skank - Junior Dan (Clappers)
Yet another week where a radio show seems like an indulgence and frippery when there is so much immensely bad bad shit going on, but I guess the world keeps on kind of turning.
Tonight was a little bit congested on the musical tiplet. I had more than enough for several shows even before I remembered a weighty wishlist at Juno Download, and before you know it there's nearly a gigs worth of hooha coming down the pipe including albums from Discodeine, Earl Sixteen, Fruko & Joe Arroyo… plus EPs' from Black Chow (on Jahtari), Alpha Steppa featuring his familial racket makers Alpha & Omega and tracks from Eero Johannes and who knows what else… A bumper crop then!

Add that to the scorcher of a new album from moody maestro The Oscillation, a cracking new Colombian comp ('Cartagena') on Soundway, A Hawk And A Hacksaw's excess evocative 'Cervantine' album and plenty more - and you have a rhythm roadblock. Will be doing some more exorcising of that sonic surplus on Thursday when Armatherapy resumes at the Ginger Minx (8.30-11.30 and free popkids) after a 2 week lay off.

For your temporary delectation tonight it had to be something from the eponymous album by Pentile & Pilooski a.k.a. Discodeine. I have enjoyed bits and pieces that have emerged under this name in the past, but hearing tracks randomly almost put me off the full record. Praises be for finally enough time to check it out this arvo (and subsequently shell out for it), and realise what I've been missing out on. Don't be an ass like me, check it for yourshelf at the links below. By way of introduction do investigate the lo-qual mp3 below which will be up for one week only…but by then you'll have bought the record …right?!!
Buy the Discodeine album
, it's awful good but don't expect to be bowled over on first listen - is growery!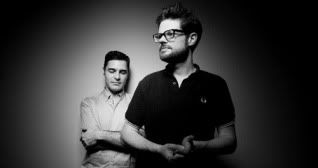 HOMO-COMPATIBLE - DISCODEINE
And please do check out the A Tribe Called Red track I played on the show tonight concerning the brutal murder of a half deaf woodcarver by an unrepentant and let off Babylon officer in Seattle. It's some fucked up business, please spread the tune. Here's a link to their
soundcloud
(the link in the playlist goes direct to a link to download the track, they've used up all their soundcloud freebies). Wobble with a purpose, amen to that.
A Tribe Called Red blog
Twittery
facebook