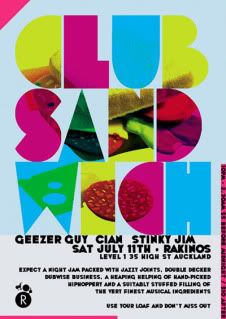 Before we go any further..PSA for those in Auckland and environs on Saturday night, come get your stratafication on, should be a good night and a well wide musical mix with us old gits on the decks all night. New booth at Rakino's apparently, so may not be having to visit the osteopath on Monday morning. All systems go, see you there, only a humble Hilary to get in before the witching hour...On with the show...


Guachito Gil (Instr) - Fauna (ZZK)
Hay Guey - Tzochitl Soundsystem vs Toy Selectah (Bersa Discos)
Las Mila Caras (Instr) - Fauna (ZZK)
I Shave The Barber - Tommy McCook & The Supersonics (Pressure Sounds)
Barbering - Tommy McCook & The Supersonics (Pressure Sounds)
Like You Didn't Know - Harry Becket (On-U Sound)
Can't Stop Now - Major Lazers ft Mr Vegas & Jovi Rocvkwell (Downtown)
Do Bodda Mi - Roots Manuva meets WrongTom (Big Dada)
Sound The Horns - Wu Tang Clan (Koch)
Apparently - Anti Pop Consortium (Big Dada)
Holly Ollie (Focus) - Hollyweerd
Excuse My Mood - Kid Cudi
Wheels In Motion - Speech Debelle ft Roots Manuva (Big Dada)
Flipside - Hypnotic Brass Ensemble (Honest Jon's)
Otherness (Black Mustang Rmx) - Chilled By Nature (Lo)
Carjacked (Holidays) - Bot'Ox (I'm A Cliche)
Rue De L'Arseanl - Bot'Ox (I'm A Cliche)
King Kong Is Dead - Joakim (K7!)
Colours - James Duncan (Round Trip Mars)
... Of Everyone Around You - James Duncan (Round Trip Mars)
Porc #1 - Moderat (Bpitch Control)
Colours Beyond Colours - DJ Food (Ninja Tune)
Love Song For Zelda - Dashiell Hedayet (Dirty/Born Bad)
Cortex A - Cortex (Dirty/Born Bad)
Do The Joy - Air (Virgin)
Coasters (Idjut Boys Version 1) - Mendes & Alcada (Claremont 56)
For Hoped (Dub) - Black Devil Disco Club (Lo Recordings)
The World May Shudder At My Joy (Depth Charge Rmx) - Tim 'Love' Lee (Tummy Touch)
Contact - Wooden Shjips (Holy Mountain)
James Bond In a Jimmy Hat - Luke Vibert (Speed Of Sound)
Get Blanket - James Duncan (Round Trip Mars)
Reject Pain - James Duncan (Round Trip Mars)
Peeled Apples (Andrew Weatherall Rmx) - Manic Street Preachers (Sony)
18 Hours - KXP (Smalltown Supersound)
Rett Pa - Lindstrom & Prins Thomas (Eskimo)
Blue Snakes - Canyons (I'm A Cliche)
Putting In The Overtime - Runaway (I'm A Cliche)
You Are Amen - Polyester (Lo Recordings)
It hasn't been a case of wilfuly ignoring this here blog but the last week or two have been action stations at RTM Towers. This week we have an album going into the production cycle (James Duncan's stupendous 'Hello-Fi' out August 3d, start saving your pennies), two 7"s about to start their trek from files to piles (of wax) that would be Jefferson Belt and Unitone HiFi tussling it out on the split-ness and Mr Duncan with yet more scorchment, as well as new songs, promised demos and all sorts else. Throw in a fair swag of journalistic blabbering and the delightful distraction of a new toy for digital deckery, that mighty Kode 9 gig and a raft of other stuff.... and its been full on.
Not too full on to sling a tune your way and promise a post for later this week (I have given you a starter and a main course but the desert has been a tad tardulatory) though. Making a big impression on tonight's somewhat rocksmik show was the 'Milky Disco 2' comp, a recent gift from my #1 NYC connect and one that's taken a minute to sus out. There's some amazing stuff on there alongside a little tosh that is basically trip-hop dressed up in rather un-fetching balearic booties. Focussing on the finery, I've been somewhat taken with Polyester and their 80's-esque cut which closed out on tonights show. On first listen I dismissed this as yet more revisionist racket trying to conjure up some mythical atmosphere of 25+ years ago, yet it has crept up on me and dissolved my cynicism. I'm sure I've heard of (and maybe seen a picture of) Polyester on some blog somewhere but my google game must be off because my internetted sleuthery has revealed many Polyesters ( a garage rock band from Argentina, an indie mob from Uruguay etc) but not the one I'm looking for. Scratch that, an extra L, Doh! myspace below, not sure about their other gear but this track is the veritable biz.There's a whole host of other good stuff on Milky Disco 2, too many to mention here though I suspect tracks will be turning up on SG for some time to come. Have a taste... and then put yer hand in yer pocket and deal with the meal.
Buy
presumably available soon through Border for Aotearoans
LoWeb
can recommend their shopping site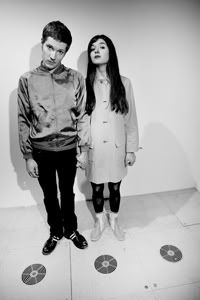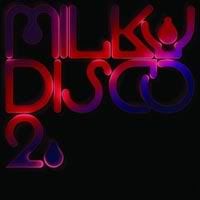 YOU ARE AMEN - POLLYESTER
coming soon, looking forward to this one too...