Cash Flow - Major Lazers ft Jahdan (Downtown)
Never Gonna Stop - Jahdan(Gold Dust)
Certain Money - Busy Signal
Bakwey Rhythm - High Stakes Crew (High Stakes)
Creeping Tings Of The Earth - Jefferson Belt (Round Trip Mars)
Sneeze Off - Unitone HiFi (Round Trip Mars)
Ordinary Life (Moody Boyz Dub) - Smashproof (Move The Crowd)
Find A Good Man - Lady Saw (VP)
Start A New - Tarrus Riley (VP)
Money Over War - Laden (VP)
Just One - Tanya Stephens (VP)
Have A Little Faith- Nicky Thomas & Dennis Alcapone (VP)
Twilight Rock - Tommy McCook & The Supersonics (Pressure Sounds)
Gangsta, Gangster - Dead Prez ft Movado & Styles P (Invasion Music Group)
Freeways Beard - Freeway
Rain, Sleet, Snow - Wale
Birds Of Dub - Architeq (Tirk)
Ambivalence Avenue - Bibio (Warp)
The Cupboard's Bare - James Duncan (Round Trip Mars)
... Of Everyone Around You - James Duncan (Round Trip Mars)
I Hear The Vibrations - Wooden Shjips (Holy Mountain)
Sound Of Breaking Glass - Expanding Head Band (Lo Recordings)
All Covered In Darkness Pts 1&2 - DJ Food (Ninja Tune)
Be Quiet - Jean Jaques Dexter (Dirty/Born Bad)
Do The Joy - Air (Virgin)
Sugarette - Bibio (Warp)
Fly Like An Apple - Joakim (K7!)
You Are The Sun - James Duncan (Round Trip Mars)
Rendezvous - James Duncan (Round Trip Mars)
Rue De L'Arsenal - Bot'Ox (Im A Cliche)
Purple City - Joker & Ginz (Kapsize)
Anaconda - Untold (Hessle Audio)
Tropical Kids - Frosty (Each & Every)
La Funebear (Instr) - Fauna (ZZK)
Low Pressure Zone - Clubroot (Lo Dubs)
Embryo - Clubroot (Lo Dubs)
Too Long Dub - King Midas Sound (Hyperdub)
A New Error - Moderat (Bpitch Control)
The World May Shudder At My Joy (Depth Charge Rmx) - Tim 'Love' Lee (Tummy Touch)
Crystalline - Subway (Lo Recordings)
The Parakeet Beat (Bjorn Torske Rmx) - Sunburned Hand Of Man (Smalltown Supersound)
Another week with a show and a post followed by... well ... you know crickets and tumbleweed and stuff. I'll spare the excuses (but not the horses) and just warn you that the upside of the activities that are predominantly causing this blogblank will be making themselves known on RTM soon and they will be worth the wait. As well as the releases previewed tonight (Unitone HiFi/Jefferson Belt split 7", James Duncan 7" and deluxe album deliciousness) there is another James Duncan video on the way and the new SJD video can be viewed at the palatial RTM site or on VousToob or just down there at bottom of t'post. The Taylors have done us proud and it's an awesome article of ASCIItematics, much chuffage all round.
Tunewise I'd like to hip you to the 'Bakwey' rhythm from the glorious locals High Stakes. There's a whole
interview malarkey
with Simon & Tiopira on stinkyincy already, so I'll keep this succinct, basically they've come back with another belter. I hope there's some more vocals planned for this - and maybe some from closer to home, the MCs on this one haven't knocked my proverbial socks off ... yet (since this morning!) - though that is par for the course with the bulk of current voxalisers to be fair.
Hanyways I reckon this rhythm is tight, and definitely up to scratch with what's coming out of elsewhere at the mo, so titfers aloft for the HS fellerses.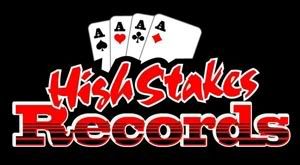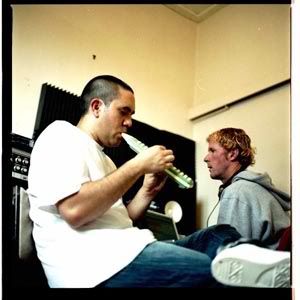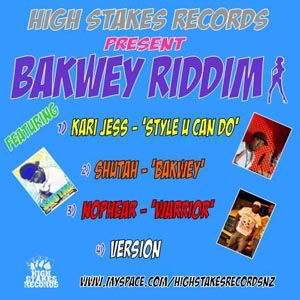 HIGH STAKES CREW - BAKWEY RIDDIM
and lets not be forgetting this. HD option seriously recoomendulated....