Yes... you are not experiencing deja vu (yellow wall this time), Tuning Up again at the Ginger Minx (and again followed by Club Sandwich on the 12th) this Saturday evening from 5-8 (no cover), a few bloggerising local peeperations would be most welcome, it's a good slot at a good spot!! Do read on......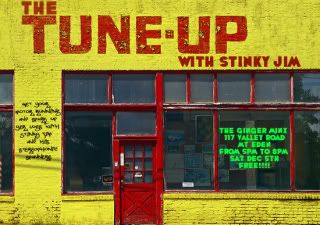 Jah Run Things - Supercat (Wild Apache)
Love In The Streets - Beres Hammond ft. Assassin, Buju Banton & I Octane (Penthouse)
Cool Out Son/Nice It Up - Junior Murvin & Welton Irie (VP)
Cuss Fix Version - Upsetta Crew (Upsetta Sound)
Ticker Tape - Tapes (Jahtari)
People Rhythm - Nick Manasseh (Roots Garden)
Villa Donde - King Coya (ZZK)
Arab Trip For Cumbia - Gianko y su Sonido la Limpia
Champion Sound - Guachin (El Empuje vs Buju Banton) - Cherman
El General Drone (Un Mono Azul Mash Up) - Un Mono Azul
Cumbia Por Todos Las Chicas - SDP vs Neil Landstrumm
Bremen OST (SDP Edit) - Stephan Bodzin
149 Dalston Airline - Debruit (Civil)
Equator Jam - Ghosts On Tape (Wireblock)
More Cowbell - The Time & Space Machine (5D)
H.A.L. (Andrew Weatherall Rmx) - Detachments (This Is Not An Exit)
Predator Mode - Ghosts On Tape (Wireblock)
9 Pad - Blue Daisy
Stop What You're Doing (James Blake Rmx) - Untold (Hemlock)
Chakra - Guido (Punch Drunk)
Sunflower (Eero Johannes Rmx) - Reason Or Romanza (Civil Music)
Mueve - Lido Pimienta
Ave Pa 'Ve' - Gabriel Romero (Discos Fuentes)
Cumbia Sampuesana - Conjunto Tipico Vallenato (Discos Fuentes)
El Burrito (King Coya Rmx) - Cucu Diamante y Los Tucanes De Tijuana /King Coya (ZZK)
Incredulous (Frank Booker Edit) - Julien Dyne (BBE)
Fish - Ikonika (Hyperdub)
Ba Ba Boom (Oogun Rmx) - Dub Asylum (Loopy Fruit)
Soundclash 1 (Grevious Angel Rmx) - Naptha (Keysound)
Dub Ting - Tes La Rok (Noppa)
Fat Bird Dub - Ealzee
Rise The Larma - Flow Dan (Eskibeat)
Dirty Money - Soom T (Jahtari)
Di Letter - Merciless (Not Nice)
Warlord's Daughter - Lexie Lee (Manslave Records)
The Gal Time Now - Assassin (AMG Productions)
We Having Fun - Bugle (AMG Productions)
European Swing Riddim - Kurt Riley & Christopher Birch (AMG Productions)
You Are The One - The Time & Space Machine (Tirk)
Onsta La Yerbita - Enrique Delgado Con Los Destellos (Vampisoul)
You Monopolise Me - The Ogyatanaa Show Band (Soundway)
Beeg Spenda - wAgAwAgA (Acroplane)
Little Drummer Boy (Edit) - Lindstrom (Smalltown Supersound)
Wizards In Dub (Part 1) - Invasion vs Shackleton (This Is Less Music)
Well that one almost got out of hand with some strangeness, added to some weirdness and mixed up with a little cacophonic culture, at times it felt like driving down the motorway with your eyes shut! Not that I'm complaining mind, there's far worse musical misadventures going on every single minute.
Of articular and particular note this evening was Oogun giving Dub Asylum a right smack-up remix for the debut 7" on Loopy Fruit Records. Props are properly dispensed to Messrs
Mclenners
and
Oogoid
for their work on this, it's a scorcher. The 45 will be hitting shops on Monday the 7th but Conch will be copping 'em from Friday, so NZers, show some love and support quality local tackle (internationalists not excluded neither...), check it out in the house of youtubular below), I've got absolutely no truck with music being bigged and upped on purely geographical stakes, but this would be getting a run or three on SG wherever it came from, top notch!
This weeks burnt offering and ripped receptacle is from that baddest of bad man of the Roll Deep camp, Flow Dan (actually that may not be factual, I wouldn't want to weigh in on the relative badness of them gents hindividually). The 'Original Dan' disc is somewhat predictably patchy but three tunes give off the impression of standing up and standing out like the proverbial canine seedbags. Obviously the curiously titled and available below, 'Rise The Larma' is a highlight, though whether Mr Dan has got a thing for spelling-challenged Safari Parks is a matter best dealt with elsewhere. it's such a sweet rhythm I can even forgive the weak Obama line in the chorus. 'Earth A Run Red' also ignites the reggaematical fuego, and even though the sound quality is utter tosh and it's muffled, foggy and sonically undesirable - 'Vurderas' with its Barrington biting is hard not to love.
There hasn't been a great deal of grime that has been hitting my olfactory nerve with the requisite slammeration this year, a few MC's have got their head above the average parapet but it generally feels even more inward looking, snarly and surly than it has ever done (and let's face it, that's saying something). Most times in '09 I've listened, and absorbed, and decided life's too short for too much of that. I guess listening to something so irrevocably Londonised and with even more grim in the grime it's always going to be a stretch in our seemingly somewhat more convivial locale on the other side of the world.
The divide between the dance-pop frippery that seems to be de-rigeur, and the ruthlessly low-rent and often well bent beats that transport you to an Estate of mind, has become a chasm. So predictably I just go for the JA tinged bangers and this is a serious and deadly one. Been out for a minute, but it's not a race is it?
RISE THE LARMA - FLOW DAN FT BADNESS
Listening to the Tremor record on ZZK again as I type, what an outstanding album it is, can't wait for the remix 12". The King Coya is awful good too, especially if you don't seem to have half the tracks already as I seem to. Enough of the mindless mitheration, done already.