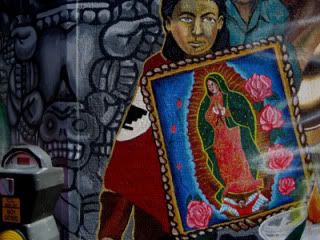 The General (Ticklah Rmx) - Jahdan Blakkamoore (Lion Dub)
The General (Ticklah Dub Rmx) - Jahdan Blakkamoore (Lion Dub)
Good Enough - Major Lazers ft Collie Buddz (Mad Decent)
Siddung Pon It - Tanya Stephens
Food Fi The Pot - Busy Signal (Penthouse)
Guilty Mouth - Mr G (Penthouse)
Duck Rhythm - Steely & Clevie (King Jammys)
Duck Rhythm - Steely & Clevie (Penthouse)
More Fire From Colombiafrica - The Mystic Orchestra (Riverboat)
Nacido En Palenque - Luis Towers (Palenque)
Poquito de Amor - Maria y Jose (Grabaciones Amor)
El Sonidito Rmx (Maria y Jose Rmx) - Hechiceros Band
Por Que Me Mientes - Barbero 507 ft Tsunami Ossua (Monobeat)
Cumbiar - Knight Magic
Kalima Shop Titi (Lagartijeando Rmx) - Poirier ft Boogat (ZZK)
Tamborito Breaks - Barney Iller
Half Colombian Half Mexican Bandit 2 - Toy Selectah
Chicha Love (Toy Selectah Rmx) - Los Chinches
Poppin Corn Guaracha - Spike Devil Disco
Chase The Cumbia Devil - Tupolev Soundcrash
Jewish Experience (Mexican Institue Of Sound) - Gershon Kingsley
Holy Are You - Rakim (Ra Records)
Me And The Devil - Gil Scott-Heron (XL)
Treacherous Disciple - Scalper (Like Water)
Changement - Debruit (Civil Music)
One Of these Days - The Q4
She's Gone - Gonjasufi (Warp)
Tricky Turtle - Blockhead (Ninja Tune)
Chemise (The Time & Space Machine) - Sorcerer (Tirk)
Rushing To Paradise (DJ Harvey Streets Rmx) - House of House (House Of House)
Peap Svm I Hsim I -Hrdvsion (Living Records)
White Wish - Secret Circuit
Timekeeper (Dave Aju Rmx) - Clouds (Ramp)
Un Dimanche Sans Fin - I Cube (Versatile)
Snake (Mexicans With Guns Rmx) - Oy (Creaked)
Maria Purisma - Maria y Jose (Grabaciones Amor)
Rotolock - Daphne Oram (Paradigm Discs)
My Way - jj with Lil Wayne (Secretly Canadian)
Voi Parlate, lo Gioco - jj (Secretly Candian)
Hamada -Easy & Centre Of Universe (Harmonia)
Automating - Darkstar
Skylarking (Instr) - Jefferson Belt (Round Trip Mars)
Horiz Kru - Don Froth (Funky Fella Crew)
Starfox - Kuedo (Planet Mu)
Sketches (SBTRKT Rmx) - Fantastic Mr Fox (Black Acre)
If I - Fantastic Mr Fox (Black Acre)
Zx81 - D Bridge (Fat City)
Os Veix3 - Autechre (Warp)
Wild Things - Richard Sen & Cazbee (Mixed Blood Cuts)
Diabolic Man Instrumental - Diabloic Man (Light Sound Dimension)
Run - Parallel Dance Ensemble (Red Bull)
51 tunes in 3 hours tonight which is a fair bash for a muggy old night in AK town. So much else that I wanted to play, including a bunch that I bought last night that simply got the snob amongst tonight estrellatatsique excellence.
I'm going to fling a track downstairs (as it were) but this whole album is available for nix, so take a taste but please do take the hint and check out the whole record.. it's a pearler. The work of mucho talented Mexican Antonio Jimenez 'Espiritu Invisible' is a right tardis of a record -there's a lot more in there than you first think. There's a whole heap of South American currents running through it, but in a very untypical way with African rhythms, indie, glo-fi (can't believe I just said that) and well contemp. electronic flavours, all battling it out with the kitchen sink and the crucifix.
I love it, even if I'm not doing a great job of describing it.
In the process of writing this I've decided it's mandatory to stick at least a couple of tracks up, as that will only give you the merest hint of the all-over-the-shop yet strangely coherent hoo-ha within. The artwork is worthy of the DL alone and check his
Soundcloud
page where I first bucked up on his gear, there's an altogether different new track streaming that he whanged up just today.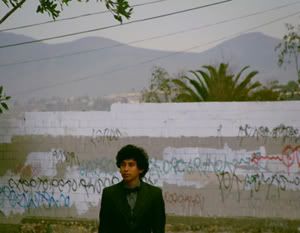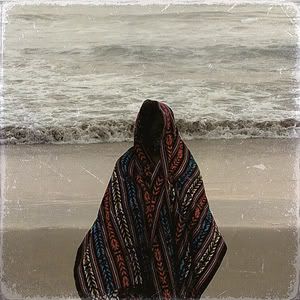 San Antonio
by
María y José
Poquito de Amor
by
María y José