Pot Still Haffi Bubble - Queen Ifrica (Creative Noize)
Gwaan Live Life - Cecile(Creative Noize)
Don't Fret Too Much - Tony Rebel (Creative Noize)
Pursue Riddim - Creative Noize Crew (Creative Noize)
El Alto de la Paz - Lagartijeando ft Boogat (
soundcloud
)
Rusetron - Den5hion (
Latino Resiste: AZTLAN
)
Asi Papi - Papi Perez (
Latino Resiste: AZTLAN
)
Del Puente A La Alameda (Dengue Dengue Dengue Rmx) - Lizandro Meza (
soundcloud
)
La Pava Congona - Afrosound (Nascente)
Cumbia Del Monje - Tulo Enrique Leon (Gamma)
La Gozadera - Alex Acosta y su Orquesta (Soundway)
Cumbia De Los Aires - Anibal Velazquez (AMS)
Pasion Oriental - Los Destellos (Odeon)
Easy Action - The Alps (Mexican Summer)
9ine - MRR-ADM (Now Again)
2wo - MRR-ADM (Now Again)
Silent - Blu (Nature Sounds)
Since - Blu (Nature Sounds)
Accorde Don - dEbruit (Civil)
Run - Parallel Dance Ensemble (Permanent Vacation)
Possessions - Parallel Dance Ensemble (Permanent Vacation)
Grand National - Julio Bashmore (3024)
Fountains Of Paradise - Appleblim & October (Schmorgasbord)
Kryon ft Fling Lotus - Kode9 & Spaceape (Hyperdub)
Black Smoke ft Cha Cha - Kode9 & Spaceape (Hyperdub)
Bangin Beauty - Sidecar Tommy (
bandcamp
)
For Isabel - The Alps (Mexican Summer)
Medicine Man Revisited - Scratch 22 (Round Trip Mars)
For Walking Faces - Scratch 22 (Round Trip Mars)
Journalist Writer - S Bacgan (Disposable Music)
Sleeping Samurai - Kluger/Vangarde (Disposable Music)
Crime Sound #8 - The Crime Sound Orchestra (Disposable Music)
Una Spiaggia a Mezzogiorno - Ennio Morricone (Fin De Siecle Media)
Je T'aime Moi Non Plus - Serge Fontane (Amusement)
Beat My Time - The Vietnam War (Round Trip Mars)
Rider In The Sky (Live) - Dan Bau Vietnam (Trikont)
Yeh Aaj Mujh Ko - Tafo Bros (Disposable Music)
Albatross - John Kpiaye (Kickin)
Hurtin' - Dennis Bovell & Brown Sugar (Kickin)
I'm In Love With A Dreadlocks - Brown Sugar (Kickin)
Sweet Home - Willi Williams (Dug Out)
Mr Bossman - Pupajim (Stand High)
New York Minute - Ray Darwin (Joe Frasier)
Run Run Run - Tinga Stewart (Joe Frasier)
Bullring Boogie - Pama Intl meets Wrongtom (
soundcloud
)
12welve - MRR-ADM (Now Again)
7even ft Gonjasufi - MRR-ADM (Now Again)
10en - MRR-ADM (Now Again)
Hokay tonight's show was a special livication to two of Auckland's original and unique ladies who have passed in the last wee while, so Barbie and K R'd Margaret...I salute you, we certainly shall not see their like again and I think the world is a less colourful place for that.

Plenty of music that blew me away tonight, but the highlight undoubtedly was finally dropping a tune from the Vietnam War album which has run things on our stereo with all the subtlety of a despotic dictator, since greasy paws met with it a month or two ago. I won't go on too much.... but this album is going to fry some circuits and blow some minds, it's unspeakably good and will be out on RTM July 4th. It's also just a portion, a particularly plump one it has to be said, but just a portion of what is coming up on Round Trip Mars - notice is served and smart folk will be scurrying along to a record shop to buy a Scratch 22 album just to get in our good books (and to give themselves an earful of the very finest too!)

Once again I ramble so let me shut up and fling out this weeks little tip-lette. Queen Ifrica is invariably on point and this latest on the Pursue rhythm from Creative Noize is no exception.... get to it.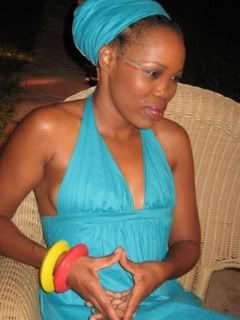 POT STILL HAFFI BUBBLE - QUEEN IFRICA
and as you may have heard several times tonight, this Friday there's shenagians and capers galore at Tabac when I will have the honour of spinning alongside Coco Solid and Extravagangsta, two of my favouritest non-RTM acts in the whole goldurned shire, should be a corker, check the flyer below only $5/$10 on the door in the words of Son Of Bazerk, what could be better bitch?!

if that doesn't mow your lawn and tune up your engine sufficiently (then I suggest a trip to the doctor) or simply aint your bag-ette then why not check out the Vietnam War and Heart Attack Alley for free at Lucha Lounge... details below and btw you're sooooo spoilt!